Why I Became a Senior Placement Specialist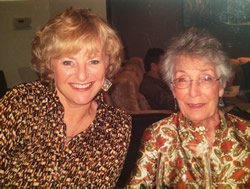 I have been through all the steps of aging with my own mother. Throughout the last 10 years of her life, Mom guided me towards working with older adults, without even knowing it. At that time, I was entertaining the idea of a new career combining my 20 years of experience in real estate financing with more heart-centered work. While I was ushering my mother through her aging and decline, she was leading me to my new life's work!
Growing up with older parents left me with an affinity for older adults that now makes me a natural fit in this field. I can be a trusted partner through the transitions of aging. Since 2011, I have moved more than 100 seniors from their long-term family homes to new lifestyles and living situations. I truly believe that this time of life includes growth, adventure, and freedom and I hope this is the inspiration I can provide for you. I love to see older people thrive, not just try to get through it.  Sometimes you or your loved one just needs professional advice and personal support from someone who has been there.
"Recently, my parents and I were faced with a decision to make, as to where to place my mom while dad had major surgery and recovery. My first thought was, who can help? How can I keep Mom close and secure? Millie came to mind as a trusted, competent friend who knew the ins and outs of the senior living world. Millie made it seamless for us and proved she knew the business and nuances to good residential care. With her help and honest caring we were able to negotiate a successful transition for my Mom."
~Tom M., Corte Madera, CA